Imagine what it would be like if you were truly at peace with your life.
Imagine that you can experience freedom from perfectionism and negative mind chatter.
Imagine how much you can succeed in life without being held back by anxiety.
Imagine not feeling guilty when you're not  'doing' but instead enjoying simply 'being'.
With Bliss-filled Mind in your corner,
what you imagine

can

become a reality.
At Bliss-filled Mind we give you the tools to help regulate your thoughts & emotions so that you can succeed more in life.
We show you how your productivity & focus can increase... 
.... and how you can live from a place of calm, making wise choices. 
Plus reveal how you do have the power to change your internal mind-track from negativity to positivity!
In fact, I'll give you the keys to re-wire your mind so that you can shift from fear & worry to Self-Love and Self-Worth!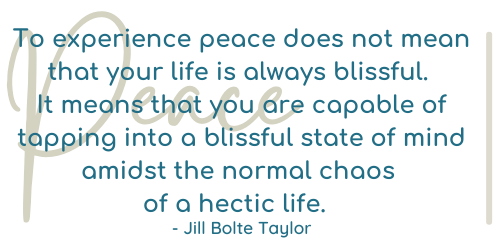 It truly IS possible to experience peace and calm even if you struggle with anxiety, anger... and other 'difficult' emotions.
And even when life is messy, chaotic and painful.
I believe that discovering how to be content, grateful and at peace - in all that life throws at us - is a real gift. 
A gift that I'd love to share with you, so that you too can find

your bliss. 
A bit about Karin...
While the world locked-down in 2020 I was offering mindfulness meditations and training to the parents & teachers at the school where I worked as a counsellor.
I had been a mindfulness teacher and school counsellor for several years yet the requests for mindfulness continued to grow beyond the school gates as the world became a much more stressful and anxious place to live.
I then offered mindfulness workshops to those who were longing to find a solution to their stress, anxiety & overwhelm.
Especially to those who found life and their mind was always too busy and often filled with negative thoughts.
I would be honoured to walk some of life's journey with you, reach out and let me show you how you too can live a life of calm, focus & happiness!
much peace,


Mindfulness is essentially being fully aware & fully awake in the present moment.

With a calm, focused and clear mind - without judging the moment as "good" or "bad".
 It's basically the opposite to living life on auto-pilot!
Mindfulness isn't airy-fairy woohoo or religious it is backed by science and centuries of experience. 
At Bliss-filled Mind we focus on mindfulness because, as you practise mindfulness regularly you are actually changing the shape of your brain.
Your brain discovers new neurological pathways away from old stress or reactive patterns to that of calm, focussed attention and "smooth" mind responses.
These days we've grown used to being overwhelmed - with everything screaming for our attention - we're constantly distracted with nothing, or no one, getting all of our attention. 
But there is another way...
You can live fully alive in any given moment!
You can jump off the merry-go-round of 'wake, eat, work, sleep, repeat' & fully live! 
You can have a space in your mind so that you can focus on what matters!
True bliss can be become a reality for you too! 
"...IMMEDIATELY FEEL COMFORTABLE..."
"I couldn't recommend Karin more!
Her guided mediations are somehow peaceful and relaxing,
as well as motivating and empowering.

She has a warmth and openness that makes you immediately feel comfortable to share, be vulnerable and relax completely.
Thank you Karin!!!"
Lauren McC.
School Teacher
""... KARIN'S EXPERTISE & PROFESSIONALISM..."
As a professional relationship coach, I recognised the need to take time out when emotional roadblocks come along. Karin's expertise and professionalism is wrapped in a deeply personal and relaxed manner.
...
It brought me personal healing and breakthrough; and is a poignant marker in my personal growth journey."
Delwyn W.
Relationship Coach